Yea, I had these grand plans to knit, knit, knit non-stop on the airplane, in the hotel room, on the beach...(please stand by for the excuses)...but I was having so much fun, I just couldn't sit down long enough to knit, and when I did stop moving, I slept!!! I got a chemo cap started, and about half way done, but that's pretty much the extent of it.
We caught a 6:30 AM flight out of Detroit on Saturday morning, and headed down to Cocoa Beach. Here's a shot from the plane of the sun rising....isn't it purdyful?
We couldn't have asked for more perfect weather; It was sunny, hot and spectacular every single day. Our waking hours were spent on the beach playing in the HUGE waves (There was a tropical storm up the coast, and the riptide was incredible), and soaking up the sun, while our evenings were filled with less glamorous adventures like hunting for sand crabs. Ohhhhh yea....WE know how to party!!! The best part was that, for the most part, we had the entire beach to ourselves.

Traveling back was just a teensy bit eerie...it turned out that we were flying home on September 11th. How strange to be at the airport watching the news, and wondering what was going through the minds of all the travelers in that very same spot only six years ago. Apparently, most folks aren't real keen on traveling on the 11th. Including the crew, there were only 21 of us on the Boeing 737.

All in all it was nice to get away and see palm trees and all things tropical. I do, however have a little side commentary I would like to make at this time. People....bikinis are made for bodies that are made for bikinis. I accept that my plump little body should not be shoved into a bikini...WHAT in the world are some of these people THINKING? OMG...I saw more rolls on that beach than any bakery in the land. SHEESH!


">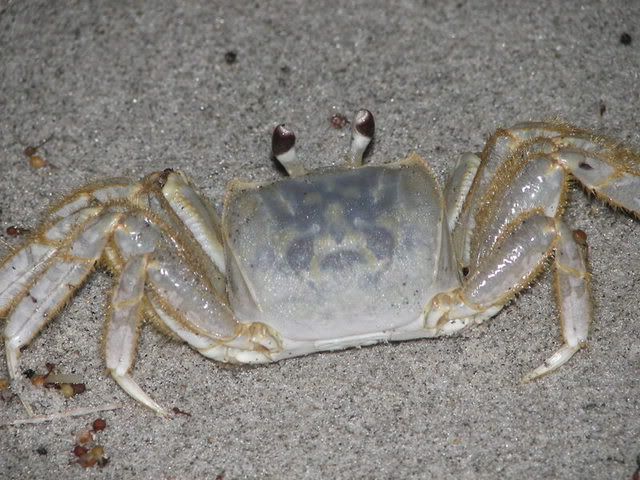 Okay...the knitting...Like I said, I started a chemo cap. Yes, I'm ashamed at the lack of accomplishment. HOWEVER, I have a great tan!!! Hee hee!
...and...my cool new gecko stitch markers I got from
Sunneshine
...
ADDED EDIT: I just did something I've NEVER done before. I went for a two mile walk (started small) at a pretty good speed, and KNIT the entire time. IT CAN BE DONE! I see more exercise in my future!