Went to Insanknitty last night at
Yarn Haven
and once again laughed myself to tears! I sat in the library with
Becky
,
Karen
and
Sarah Lou
, (we missed you,
Patti
), and thoroughly enjoyed myself...to say the least! I REALLY want one of those knitting chairs...it felt SO good! Hmmm...looking around the house to see what I can sell....
Okay...those of you who asked me about the Lucy...I told you the bottom can be a pain, but the rest is easy as apple pie....here is what I used to teach me the
Emily Ocker Cast On
. I have found it works best to keep a pillow in your lap while working it through the first five rows or so, and keep a nice even square as your center....in other words...don't twist it up.
So
Ravelry
has changed my life. It cut into my knitting time over the weekend, taking pictures of my stash and adding them and such, but it was all so unique! Ohhhh the fun and drooling to be had by all. These folks will be millionaires when it's all said and done! Oh, and if y'all can't find
Dale Ann
, she's Insanknitter...I think. Speaking of Dale, she gave me permission to post the pattern for the chemo cap that she's always used. Here goes:
Dale Anne's Chemo Cap
Size 8 - 16" circular needle, and either another size 8 circular
or size 8 double points for use when decreasing.

Worsted weight yarn.

Cast on 72 stitches.

K2, P2 for 6 rows.

K each row until cap measures
6-1/2" from start.

Begin Decreases:
1st decrease: *K6, k2tog* (repeat around). Knit next row.
2nd decrease: *K5, k2tog* (repeat around). Knit next row.
3rd decrease: *K4, k2tog* (repeat around). Knit next row.
4th decrease: *K3, k2tog* (repeat around).
5th decrease: *K2, k2tog* (repeat around).
6th decrease: *K1, k2tog* (repeat around).
7th decrease: *k2tog* (repeat around); then pull yarn through remaining
stitches with a tapestry needle. Pull end through to the inside
of the hat, weave in, and trim.

This an easy cap to make. If you'd like a tighter ribbing, use a size 7 circular needle. Also, to accommodate larger heads, you can add stitches in increments of eight. If making a wider cap, you may also want to make it longer before starting your decreases.

There is also a PSA (public service announcement) I promised to throw in..

.
YARN HAVEN COLLECTS CHEMO CAPS FOR THE LOCAL AMERICAN CANCER SOCIETY!
...the knitting...
Jessie's sport weight Lucy is coming along nicely. I've got the straps all set up, bound off, and started. I love the way the colors are striping on the straps...just
gorgeous
!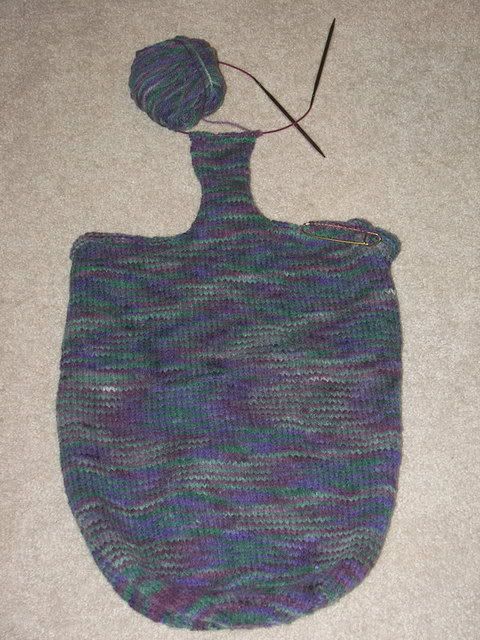 I'm moving slowly on the Ice Cream Sundae Socks...but progress was, indeed, made...and this is only Wednesday. Actually, I just wanted to show you my cool new little knitting tote that I got at Yarn Haven. It will velcro through a belt loop so you can walk and knit! Yes, I tried it...only ran into one tree so far. ;)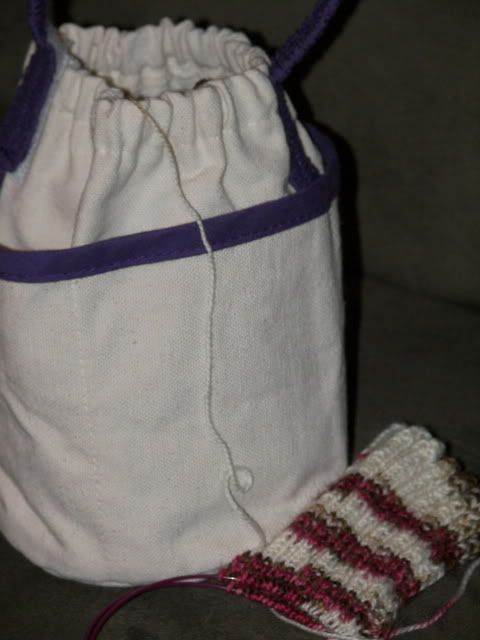 Hmmmm....let's see...what else? Well, my canning mojo seems to be calling out to me to throw some things in a jar. I canned this AWESOME
Jalapeno Pepper Jelly
this past weekend.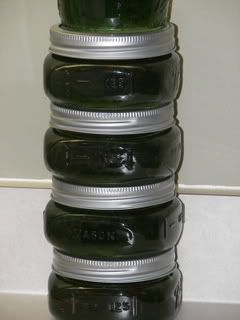 See all 20 of those kiwi sittin' there? They're just softening up a tad bit more to go into
Kiwi Jam!
Then, of course, in the next few weeks, I'll begin APPLESAUCE!
Thank you for stopping by! Have a great rest of the week!