Well, Halloween is ovah, and now it's time to get serious about Christmas gifts! After making a pair of the Fiber Trends Felted Clogs, for Bizzy, I've decided to make a few more pairs for presents. They're a fairly easy knit, once you survive the first row, and I think they're darn cute! I used Lopi by Reynolds and they came out pretty fuzzy, but perfect for Biz!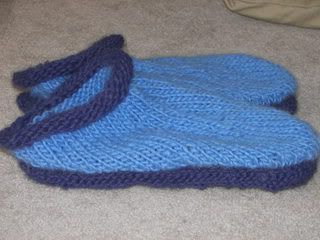 Now
...yea, they need a shave, but Biz really likes them all fuzzy and crazy looking.
Block of the Month class is tonight, but I wasn't able to go AND I need to finish up October's block before moving onto November's block. See...just a few more inches to go. It would have been done, but the felted clogs SUCKED me in!
Tomorrow morning I meet with Becky for the weekly Blue Creek Knitting Group. Yes, there are only two of us, but if ANY one of you would just show up, THEN three would equal a GROUP fer sure!
Halloween was last night, and I swore that THIS year, we would ONLY pass out candy. In years past, we've had themes, and light shows, and major planning. LAST year we turned the front porch into a pirate ship.
Well...as the evening approached, my heart started to
palpitate, and I got this sick, uneasy feeling in my stomach. I LOVE HALLOWEEN! How could I EVER have thought we could just let this year slide by with nothing but a basket of candy!?!?!?!? NO! NO! ABORT! Turned out that the kids were feeling the same way, SOOOOO at 5 pm (trick-or-treaters would start to arrive in ONE HOUR), Bizzy, Bear and I started pulling out fabric, old costumes, my wedding veil and wedding shoes, and we made the most of it! Bizzy and Bear don't even GO trick-or-treating, but they are such great sports!
So, yea...a ghost, a corpse bride, and a creepy lookin...ME!